Written by Kool Kila - www.koolkila.com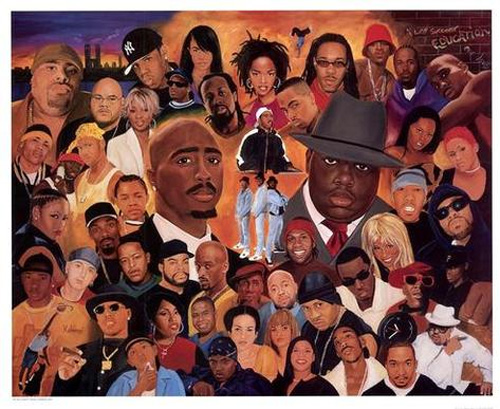 Face it. Hip-hop is grown. Hip-hop has BEEN grown. And rap music is a full-fledged genre now. You can see hip-hop's influence everywhere, fashion, movies, food, toys, etc. with both young artists and veterans alike. Grandparents can recite Run DMC, T.I., Public Enemy and Snoop Dogg. A few select radio stations across the country now play classic rap songs lightly in their rotation. XM/Sirius satellite radio has a channel dedicated to "old school." And artists like Doug E. Fresh, Slick Rick, Whodini, Sugarhill Gang constantly tour. As a matter of fact, Public Enemy tours abroad in Africa and Europe more than they do in the US.
For the past four to five years, I've found myself recognizing and enjoying the aging of hip-hop culture. Although I've been in the music business for nearly sixteen years, sometimes I veer from being with the "VIPs" and go to concerts just to stand amongst the crowd. If I'm at a club event, I anticipate hearing a DJ play A Tribe Called Quest, Kanye West, Mary J. Blige, New Edition, Missy Elliott, Eric B. & Rakim and Drake. If I'm at a live concert, I love looking around to see if there are any twenty-somethings watching the legends do their thing. Examples of grown-up hip-hop I've noticed:
Essence Music Festival in New Orleans---every summer they invited one hip-hop artist, and Run DMC, LL Cool J, even the Fugees had everyone in the Superdome, 35yrs old and above, rhyming along with them.
Heineken's summer concert series---in the past, it consisted of up-and-coming soul music stars like Chrisette Michele, Teedra Moses, Musiq Soulchild. Ludacris and Bun B were featured stars last year.
Ebony Magazine's "Black Family Reunion" Tour---brought back R&B stars from the 80s, Klymaxx, Lisa Lisa, Atlantic Starr, but also hosted rappers like Big Daddy Kane, MC Lyte, Kool Moe Dee.
The Glastonbury music festival in England---the largest in the world had Jay-Z as the first headlining rap artist.
Branding and marketing firsts---Snoop Dogg's "Snoop De Ville" Cadillac, E-40 owning "Fatburger" chain stores, Big Boi collaborated with the Atlanta Ballet, The Roots are house band on "Late Night With Jimmy Fallon," Queen Latifah and Ice Cube executive producers in film and television, etc.
I've realized that the average American between 32-40yrs old was a pre-teen when hip-hop started and rap music began. Pioneers of the culture are now in their mid-to-late 50s. To put it in layman's terms, (Read More...)
Please make the Cache directory writable.